Superstar member
Posts: 464
Joined: Sun May 25, 2008 9:54 am
Location: On the Road, NC
nospam: no
Sat Apr 10, 2010 11:46 pm
Arrived to Morehead City Friday afternoon and dropped the 197 in the water. First time out since October.
Wanted to just troll the inlet for some Blues but the inlet was like a washing machine. 4 -5 ft confused rollers and stacked up. After 45 minutes of rocking and rolling decided to go back to the turning basin and drop some shrimp down. Anchored up directly over the picture below but only pulled up croakers. BottleNose Dolphins all around boat and I assume the big marks shown are the dolphin feeding. Left right before dark, thinking I could get back in time. Ended up coming back to marina in the dark with no spotlight. Good lesson but did trust my track on the Lowrance GPS.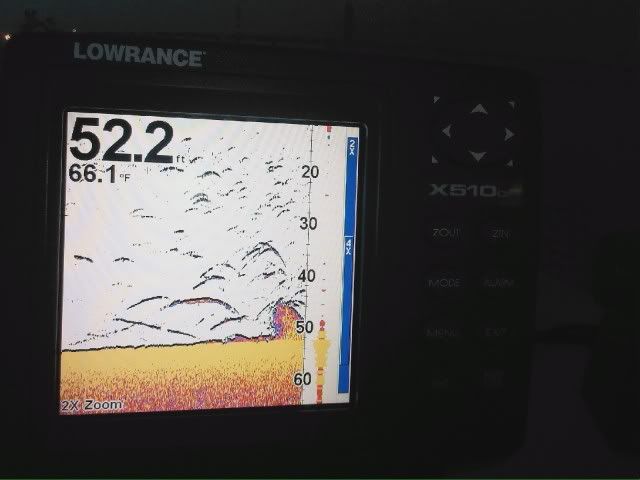 Left the marina this morning at 7:30 and cleared the inlet to find 2 - 3 ft. Looking for warm water proved difficult. Caught a 4 ft shark at R8 Buoy and decided to venture further out. Ended up about 14 miles out, 4 - 5 ft waves and chased False Albie's for an hour. Threw everything we had but no takers. Came back into Cape Lookout and met up with a buddy who had two marines on board. They are signed up for MAD 5 on June 5. They had been there for several hours catching/releasing sharks. Two marines caught at least 80 or so sharks and had a blast. We anchored up right beside them and caught probably 30 or so. Biggest was right at 5 ft.
Headed to head to the hill at 6:00 and cruised along Shackleford Banks at 34 mph. Very nice ride back in.
Great day on the water and enjoyed watching some of our Military heros have a relaxing day on the water!!!!!!!!!!!!!
CableMaker
2008 Pioneer 197 SF
2008 Suzuki 140